7 For Seven: 7 Questions For ... Kaitlyn Tiffany
"Most of my stories come from these periods of horrible anxiety—whenever something is delightful or fascinating enough to cut through the dread, I feel like maybe I can write about it."
Kaitlyn, her Harry Styles mug, and the cat that she chooses to live with
Every second and fourth Friday of the month, Brady Gerber's "7 For Seven" interviews writers talking about writing. This week's guest is Kaitlyn Tiffany. Kaitlyn is a staff writer at The Atlantic and lives in Brooklyn. She grew up in the Finger Lakes and has three younger sisters, which means she understands Greta Gerwig's Little Women (2019) the most. And Kaitlyn wants you to check out … her Atlantic feature on the bizarre world of augmented-reality Instagram filters. Read this interview on your browser.
Twitter: @kait_tiffany
Tell us: What (all) do you do?
For my day job, I write about internet culture, and for my night and weekend job, I am working on a book about One Direction fans. I co-write a newsletter about my friends called Famous People, and sometimes I blog on the very fun quarantine diary website Indoor Voices. My hobbies outside of writing are mainly making Jell-O, listening to Taylor Swift's country albums, and texting my friends about things that made us mad on Twitter.
Walk us through a typical day.
Well, you know, first I put on my slippers. One December, my friend Ashley tweeted "rly hoping all of u have slippers at home and aren't walking around barefoot, or even in just socks, in the winter," which made me rethink everything about myself. A few weeks later my mom gave me some slippers, unprompted, and this is just an example of the many ways in which my life is charmed. I use them every day, all seasons, and they are starting to smell.
I usually put water in the kettle to boil while I do the hideous tasks of waking up, such as looking at myself in the mirror for five minutes, noting how much cat litter has been distributed around the floor in the night, and popping my Tri-Lo Sprintec. Then I make coffee in a fancy french press also purchased by my mother, after a former roommate's girlfriend broke my very cheap one. If it's going to be a hard day I like to use my Harry Styles mug (he's wearing a towel), or a mug with a picture of me and my sister on it, from father's day 1999 (my dad doesn't drink coffee, so he doesn't miss this item, which I did take without asking.) I simply do not care what kind of coffee beans I buy and have never tasted the difference between Dunkin' Donuts and anything else.
Now that I have no office or desk, I work at a big round table I bought at Mother of Junk in Williamsburg last summer—I love it, and when I bought it I thought "I'm going to write my book at this table!" That remains to be seen. I usually listen to some kind of unchallenging pop playlist on a shitty Bluetooth speaker that lives on top of my fridge, and I spend the first 40 minutes of the day reading emails and whatever big magazine feature everybody will be tweeting about for the next eight hours. Of course, I also check to see if anyone interesting has viewed my Instagram Story since I went to bed, and I think about what I will eat for dinner or if there is anything stupid I should spend money on. (Most recently I bought some dishtowels with cartoon tomatoes on them off of eBay and ordered a copy of Elif Batuman's The Idiot for a boy—yes, I am a public servant.)
For some hours, I do my job as best as I can!
At lunchtime, I usually do a few online fitness videos that never feel as though they are really tailored to my body type (five pieces of plywood bolted together at strange angles) and microwave something that doesn't taste that good. I hate to say this because I think the tone of this newsletter is supposed to be largely positive, but around 2 PM each day I have to lie down and cry for about ten minutes. Sometimes I need a 15-minute nap after that as well. Then I'm OK, but if I skip it I will be a huge brat in professional Slack and in my personal Gchats.
I continue doing my job as best as I can until it is time to have a glass of wine and pretend to read a book while mostly texting. Right now I'm "reading" D.H. Lawrence's Women in Love, which I'm really enjoying because the characters often describe each other as "very insane."
Describe more about how you work; how do you do what you do?
I have a pitch call with my editor every Wednesday afternoon, so Wednesdays are my worst days. That's the day when I've just published something and it feels like it was the last idea I will ever have in my life. To be kind to myself, I spend about an hour in the morning scrolling through my Tumblr dashboard and poking around my Discord servers, and then I spend another hour searching for completely random words on Reddit. That's how I stumbled upon the "nevermets" community, which is for people in romantic relationships that only exist in like, Minecraft. (I had searched "crushes.") It's also how I found out that teenagers are dressing up like "hot" medieval plague doctors. (Black mini-skirt, beak mask.) Most of my stories come from these periods of horrible anxiety—whenever something is delightful or fascinating enough to cut through the dread, I feel like maybe I can write about it. Honestly, though, I do crave assignments. Much like Taylor Swift, I get high off doing a good job at something that someone else has told me to do and has informed me will make them happy.
If all else fails, I sometimes force myself to think of the simplest, most obvious story I can imagine and then check to see if anyone has ever actually written it. A lot of times they haven't? It's kind of shocking. This is why I wrote about "getting bangs" being funny and Lean Cuisine being bad. I think a lot of the time we're trying so hard to be original that we end up ignoring interesting topics we just assume are played-out. Often those stories are the most fun because you get to articulate something everyone has been thinking for ages! Then you get a lot of nice emails.
Because most of what I write is about normal people using the internet in weird ways, most of my "process" is just DM-ing strangers and asking them to talk to me on the phone. It's extremely romantic, and I fall in love once a week. Then I have this problem where I don't want to quote them, I just want to reprint everything they said in full because I now love them. That is when I am glad to talk to my editor!
What's your trick for when you're feeling stuck?
I look at what I'm writing and see if I can make it more about me ... I love talking about myself! Even if I end up having to cut everything later, it really gets me going. If that doesn't work, I waste the entire day feeling horrible, then I go to sleep and promise I will wake up and write the story at 6 AM and file it before anyone else is online, which I can sometimes actually make myself do—I think it just feels kind of fun and special to be up that early, and it lends an urgency to the task, like I'm trying to get to the airport on time or hide a body.
List some of your notable influences, past and present: writers, books, works of art, zesty yet tasteful Yelp reviews, anything and anyone that has inspired you.
As I said, the Taylor Swift country albums are very important to me. I once made someone listen to all of "Dear John" on the corner of Atlantic Avenue on a second date. I don't care about her new girl boss feminism but I would never have written anything if I hadn't listened to her at the right time—maybe 2006. My favorite things to read have always been recurring columns, like Caity Weaver and Rich Juzwiak's "Best Restaurant in New York" on Gawker or Natasha Stagg's summer diaries on Spike. Logan Sachon's "One Direction Week in Review" on The Hairpin. Jim Behrle's advice column on The Awl. These things make the internet feel like my home, and they have the kind of really lucid humor and humanity I wish came more naturally to me. I also love the "morning routines" they used to run on Adult, which you can only read on the Wayback Machine now. And Sam McKinniss' Yelp reviews.
The best thing I've read recently was my friend Julia's new newsletter: "Well, we did the research, and after 50+ days without leaving the house, it has become clear that our emotions surpass those of Tamagotchis (this is huge)."
---
Kaitlyn is awesome, right? I need a Harry Styles mug now. I'm glad we're able to do this. This interview is possible because of subscribers - thank you for following! Other ways you can support this newsletter: Tip for coffee (so I have fuel to edit everything and/or I can buy that Harry Styles mug) and share this dang thing. But the most helpful thing you can do is:
---
Advice time: What's a piece of wisdom that you wish you first heard when you were starting out?
When I was 17 years old and deciding to be a professional writer, my dad told me I wouldn't make any money and I said something like, "I don't care about being rich!" That was stupid. I still don't care about being rich, but when I said that with such confidence it was because I was assuming that I was only "sacrificing for my art" insofar as I was opting to live a humble but comfortable lifestyle and choose carefully which simple luxuries I really wanted—like books and food and fresh pillow-cases sometimes. I did not understand the difference between "not being rich" and "making so little money that you are in a constant state of anxiety." During my first three years in New York, I over-drafted my checking account many times and often ended up not being able to put down the "room deposit" at hotels on reporting trips, which created extremely embarrassing situations. I did not like being invited to birthday parties in cocktail bars and I accumulated a lot of debt by putting all of my MetroCards on an Amazon Visa. I recently paid that debt off with a book advance, which I guess I might find inspiring if I were 17. But you know, it sucked. Unfortunately, your dad is sometimes right—and you should still ignore him!—but you have to admit that he is right.
"Art": What the heck is it?
I don't know. Sorry! But my favorite piece of art last year was the Jenny Slate Netflix special. Specifically, the part about how she was lonely for an entire year and ended up unable to masturbate except while looking at the moon. I thought that was just sublime—truly unprecedented human observation! I also added an Elizabeth Wurtzel interview to my bookmarks tab a little while ago, in which she says "Women who have written about their own lives should be getting the Nobel Prize. Those are the only people who should be getting the Nobel Prize from now on because it's really hard to do."
BONUS: Cats or dogs?
I hate my cat, but living with him is a choice I made.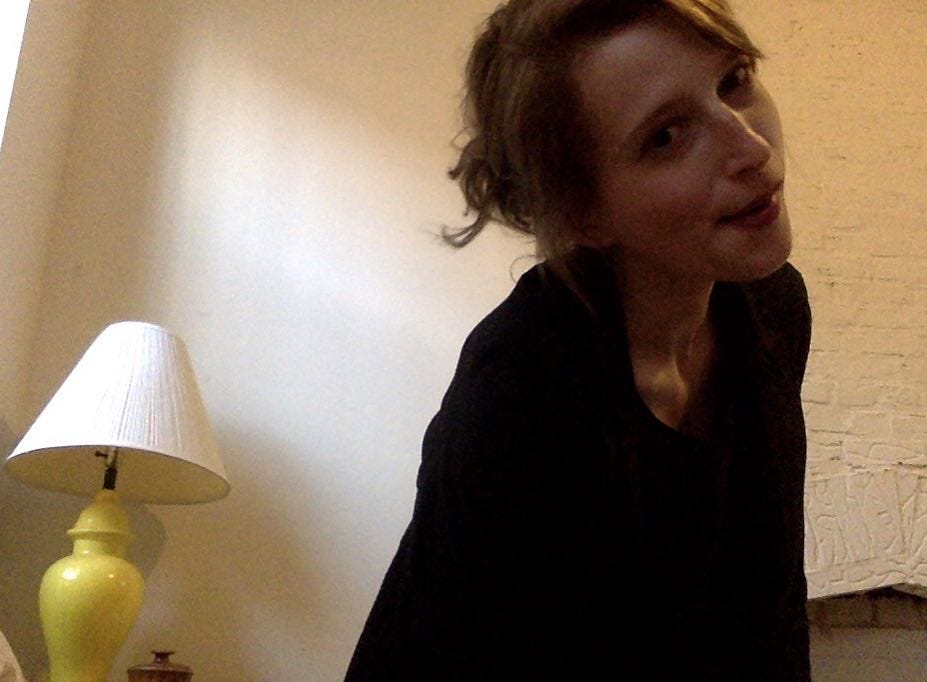 Photo credit: Kaitlyn Tiffany
---
This is one of two monthly interviews with writers talking about writing, from Brady Gerber's "7 For Seven." All cartoons by Brady Gerber. Sign up for the newsletter here.